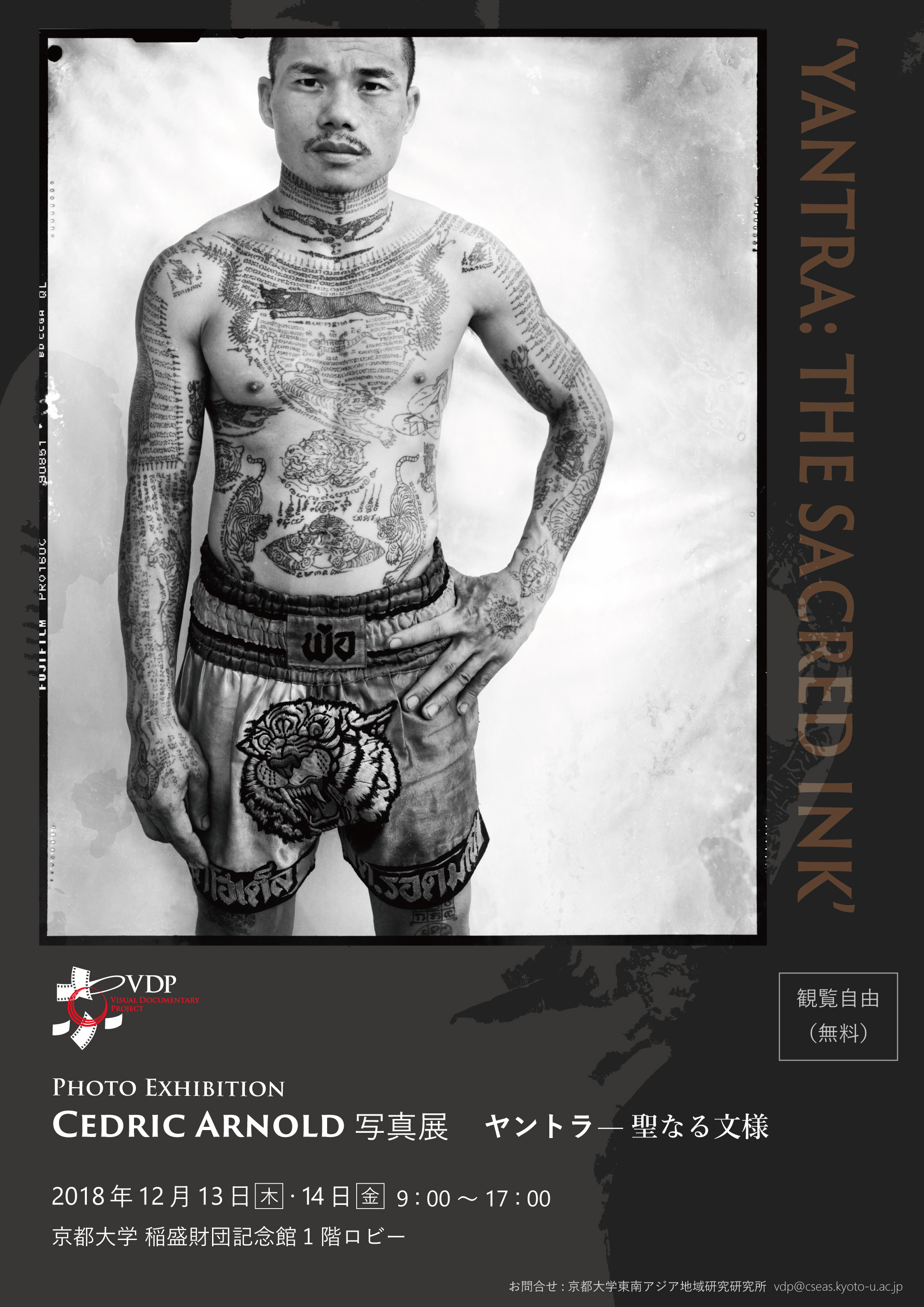 'YANTRA: THE SACRED INK'
Exhibition
Date 13~14 December 2018
Place, Inamori Foyer, Kyoto University.
About
'Yantra: The Sacred Ink' is an immersive work incorporating photography, film, sound and installations, inspired by the talismanic Thai tattoo tradition, known as Sak Yant.
Background
For centuries, Thai people have believed in the power of talismanic tattoos. The tradition was handed down by generations of tattoo masters who create the designs and empower them with prayers.
Each year devotees pay respects to their tattoo masters at the Wai Khru (master day) ceremony.
The devotees enter a state of trance known as Khong Khuen (animal spirit possession), when they are taken over by the spirit of their tattoos.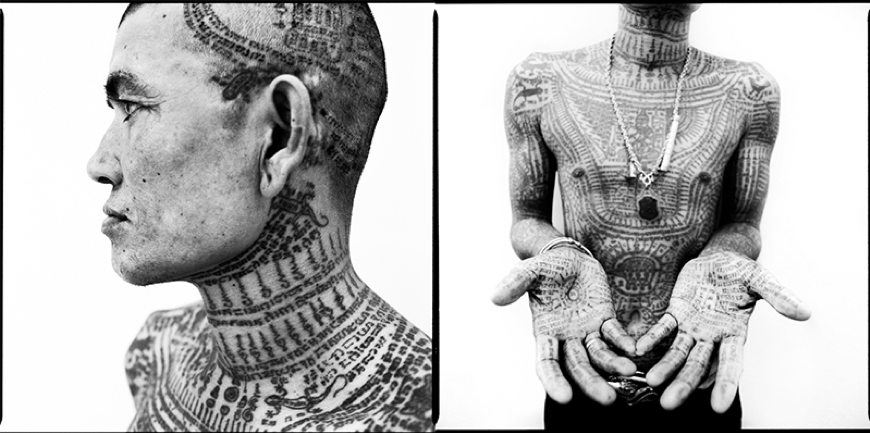 L: Untitled 23: Edition of 10 40×40 inches, R: Untitled 25: Edition of 10 40×40 inches
The ceremonies are, for the most part focused on empowering the tattoos, but the master is not just a tattooist, he is also seen an astrologist, a mentor, a spiritual guide, a shaman. Women come for relationship advice, to get newborns blessed. Boxers to get gloves or a belt blessed, an amulet, anything precious. Many come for advice on choosing the most auspicious day to open a shop, or even buy a car or property.
In a culture deeply rooted in superstition, where a genuine fear of evil spirits still exists, the role of shaman, or magicians is seen as a serious matter.
Having lived in SE Asia for many years, artist Cedric Arnold was always intrigued by beliefs in magic in the region. He wanted to work on a personal project to explore how local spiritual traditions often incorporate magic and superstitions.
The first portrait session happened by chance when, on assignment, Cedric met a shipyard worker, inked head to toe with script and magic spells, he arranged to return the following week. The man later introduced him to two tattoo masters who eventually allowed him to witness and photograph and film countless ceremonies and tattooing sessions. Cedric then began seeking out potential sitters all over Thailand to photograph them for the large format portrait series featured in 'Yantra: The Sacred Ink'.
Shot on a 4×5" camera, the series of black-and-white portraits – the negatives of which are chemically altered by brushing various chemicals onto the emulsion depict people from all walks of life and all ages, proudly showing the inked protection on their bodies.
The work is multilayered, and also inspired by the tattoo designs themselves, illustrated in a series of posed, closer images against white backgrounds, focusing on tattoo details. Cedric also collected objects relating to the tradition over the past decade.
A personal interest in neuroscience and specifically altered states of consciousness prompted Cedric to delve deeper into the project and produce a film. The film is shot during the ceremonies known as Wai Khru (master day) where the devotees come to honor their masters and to recharge the power of their tattoos. They often enter a state of trance known as Khong Khuen (animal spirit possession), when they are taken over by the spirit of their tattoos.
Gathered over several years, the substantial amount of footage and sound material, has made it possible to create multiple versions of what is ultimately aimed at being the most immersive possible experience of the Wai Khru ceremonies. The film is a cinema ready short film, it is also a museum ready shorter looping display cut, and it is a multichannel immersive installation work with surround sound.
Yantra has been exhibited 20 times worldwide (as both group and solo shows) in venues such as Royal Ontario Museum, Toronto, Asia Culture Center, Gwangju, Tropenmuseum, Amsterdam, Musée du Quai Branly, Paris, Brunei Gallery London – SOAS University, The Art Centre Chulalongkorn; the project can be set up as a site specific exhibition or come ready made.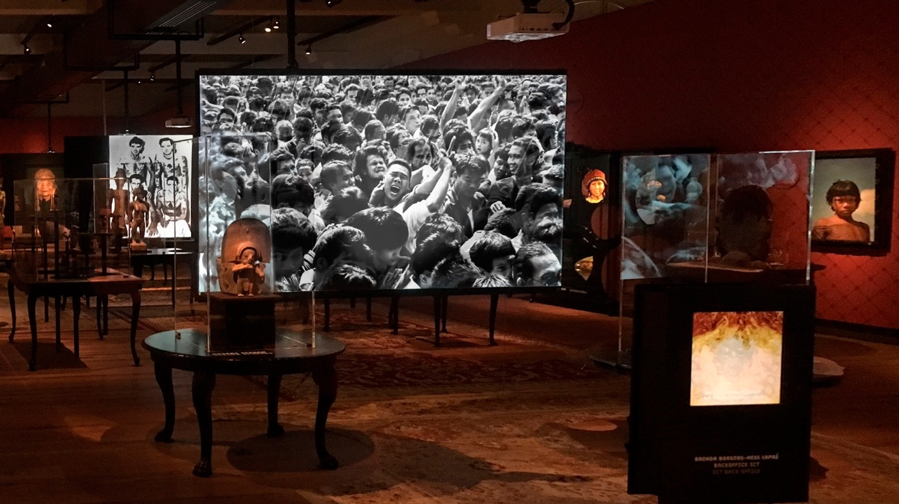 Installation view, Tropenmuseum, Amsterdam. Single channel video 4:58' / looping display – March 2017 – Aug 2018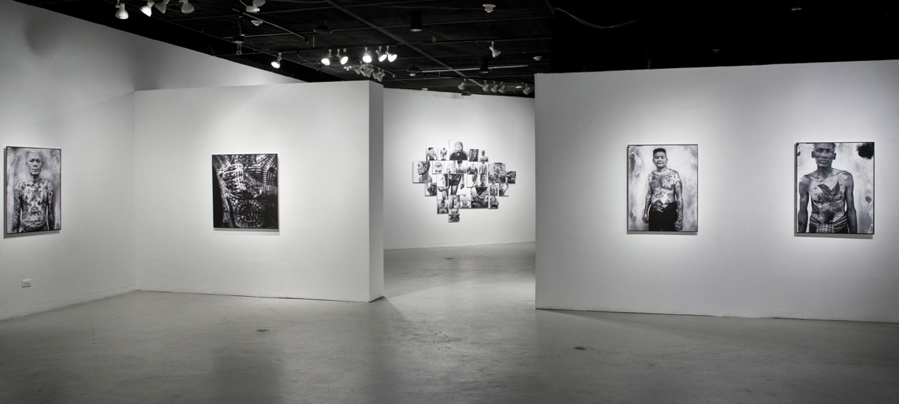 Installation view, the Art Centre, Chulalongkorn
TECH SPECS:
PHOTOGRAPHS
All photographs are shot on film, either medium format or large format and some 35mm.
Reference: http://www.cedricarnold.com/portfolio/photographs/yantra-the-sacred-ink/
VIDEO WORK
'Yantra: The Sacred Ink': short "museum" version: 4:58' (looping)
(Shown at Musée du Quai Branly, Tropenmuseum, Field Museum, Natural History Museum, Los Angeles, Design Museum, Ghent, MAS | Museum aan de Stroom, Antwerp, Museum of Folk Art, Santa Fe)
Objects
Along with Yantra, a range of objects include antique tattoo needles, magic amulets, blessed yantra cloths, statuettes, sacred texts will be displayed.
About the Artist
French-British artist and photographer Cedric Arnold was born in 1976 in the UK. While studying history and linguistics at the University of Paris, spending more time in the dark room than in lecture halls, he first took up photography and filmmaking. He moved to London in 1999 and joined the Sygma agency as a correspondent in both London and Belfast.
In late 2001, he moved to Bangkok, and began working in the South East Asian region, for publications such as Le Monde, Time Magazine, New York Times and The Sunday Times; splitting his time between assignments, and more in-depth personal projects.
His work has been exhibited in museums and galleries world-wide including: Royal Ontario Museum (Toronto), Musée Du Quai Branly (Paris), Arles Photo Festival, Tropenmuseum (Amsterdam), Field Museum (Chicago), MAS | Museum aan de Stroom (Antwerp), Natural History Museum (Los Angeles), The Art Centre, Chulalongkorn University (Bangkok)
Website http://cedricarnold.com